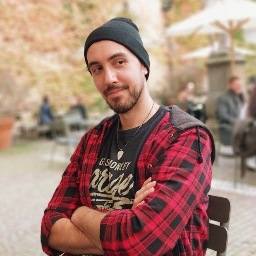 Aleksandar Belic
Software Developer & Test Automation Specialist
About
Howdy! ^.^
Aleks here, @ your service!
I work as a software developer & test automation specialist and like any other "IT guy", I'm in a long-term relationship with my computer... yup ‐ still a better love story than Twilight... ¯\_(ツ)_/¯
I remember writing my 1st few lines of code in Pascal. It was something quite simple like printing out some profanity but it still blew my mind & I've been hooked ever since.
Nowadays I'm mostly into web development but I do keep my eye on all emerging technologies.
Feel free to browse my portfolio and check out what I've been working on lately.
TURN ONs:

coffee
playin' my Les Paul
machine learning
cryptography
sk8boarding
street art
memes (no, not mimes ‐ those are scary AF)
ancient Rome

TURN OFFs:

bugs & code smells
peas (just kill me...)
making useless lists
Portfolio
After getting my bachelor's degree in computer science, I've been working on various DEV & QA projects.
It kicked off with web development, more precisely, I started as a full-stack PHPdeveloper. This involved using several frameworks like Laravel, Yii2 & Symfony. It gave me a solid knowledge of MVC architecture, both front & back-end programming, unit testing & dependency management.
Being part of a team also required to get familiar with version control systems like Git & Subversion as well as CI/CD tools like Jenkins and CLI scripting.
Down the road I also became ISTQB certified tester and began test automation for some large-scale projects for Mercedes Benz & Commerzbank. Beside explorative & functional testing, it also required a great deal of flexibility like programming custom browser extensions, learning XPath, Jython, Groovy etc.
Fast paced development of mobile apps provided me with the opportunity to grasp the basic concepts of Android platform and even publish my own app Latinica ⇄ Ћирилица ‐ a highly customizable Cyrillic-Latin converter thoroughly tested with Espresso.
As an open-source software advocate, I'm contributing to community-driven projects whenever I can, also donating my spare computing power to medical, environmental and other humanitarian research conducted by World Community Grid.
Nowadays, I'm trying to deepen my knowledge of Node.js runtime and beef up my JavaScript/TypeScript kung fu. As a dominant language of the Web, I find it perfect for development & test automation of modern single-page applications.

    -----BEGIN PGP PUBLIC KEY BLOCK-----
    mQINBFuMLbEBEADVqAnAzDXklBrMTXIdeKTjaDsCCc40M9LfOScGXZmAUZU/r3RC
    5nnkeVkKV+qYLZK3xTY5hCl/irwllTDriXVy9fG7d9BHQMu8kYRU2cF4hU6WgksW
    L/ZsgtRTrwfhbSPmAdTBu/9Johc9bYvYYpFTmV+nDLzdKebQqe1yyqo4GcvVOF2M
    2j8w8AuUQUtbCG86P+oMTUh4YYF5Y7SDItPbqJaLLAV+mxK9llhrmwusaml4FbxG
    gdHtWyar+u7tbT960qjo/i28+NbLDzrwK5farx80DJe98qG88Upo8kEXSGntoarW
    RYB6i/AhFQ/PaayDhCjYRp5p92y2McepFKI9oJ7wbEESBEjqr2J4X65EJtmKl0N8
    8xw+uWs7HdluPdDInarjcq4kFyARar6Fx0oLirraMei0S9fanmSiDmc16yhncot/
    cn3KyYkIo6qCzGIDfGlVCzQiVVO/ayWUGPIAPr7kn6J0JVS2wuYttYTsxpyIg1PM
    hwEfG7OoxzmXJe5Ft2Figesn/dsKPUrcZBxnKjkUkHNh/zT2S1ZGyMDPDbR+liOi
    +bN9Fuj4gHM3OgK3WrYk309tGcCgwjMpnwTEgKI9Vv1w2CZW2g+AYjqmIserfjTe
    Hi3o7WV84YSeFxp6mw+QwOUbLGqXwvOVL4e6zfqvDB63j6x273KK0yaWmQARAQAB
    tChBbGVrc2FuZGFyIEJlbGljIDxhbGVrcy5iZWxpY0BnbWFpbC5jb20+iQJOBBMB
    CAA4FiEERNVj6Buugu1OQBEKlfMUXV266wwFAluMLbECGwMFCwkIBwIGFQoJCAsC
    BBYCAwECHgECF4AACgkQlfMUXV266wyKCQ//WfOV6XwPvnLWZ6M46IhLm4s60kIg
    OWDFrSHSbIa8eZuRFY89+rf5+JCCBetma9yCTrHckC9WsvmvKRdEfuIy1xJxSenJ
    lE2mhXfB3H2UvKvS202uCr8Ns4F/IJ/NAXRfgd0cYWmJTK2LsJ/hFfH08FXfRux4
    MLGZKX5bv7qLoXZKKTVmVOnjFy+zN3+2FSBcEwcex30Tp/Euv8w7AQA7M1uQYKR3
    nqZYDfeRtaLi9oWaqy+wcXojAyXTAyz+miy9SrgyfrTcgJAqdJCoLtS5qMZct5uQ
    xbGPN24EBXIdx3e1SMU5VMFyuddTuWmkccudifIevkSEO45y+nEbx60mETpGjEix
    cVGa3Xgm1yyo7Jxy0Loyle7JBTicDVux3pJceZLxy+6TVTmaQj7XNUd454dGXLFa
    uigL9/yZ9W6BVXnyG0vqph291zO9p0Jip8jfl1vKyrzUQ0T2W8cIlrPUeNJV3jzt
    ctelsevxRFsHM+7EaOv0EC5bUOO87vtqGMwWxZ5UWh2K4jcOeb4jy+x5lfWl5Cjx
    BC3NdsXDM70hqsyDu7y9F6rfNMyvI1jIaJi4Di7XEY0s0GLNvJfhcIKJYEPFupVc
    DrTBU6l0ndv2+l6b0a1Qwbic0Sfk2Rb5CsKC2KE+3udEoOFvCe2VlRg639jZRsxd
    J36YayYJKt/V4jy5Ag0EW4wtsQEQAKdpitIh9ovtiBNaoHHLFx/MOfK5zHiQYtQI
    HClFRNSaRrvcY1Asir+hPbPpGiTjGHDU2feynrWQo3b7xl6baDpShWGyFJZJiYGZ
    LEti5XcbF+srQZzITqP80uHPlzirErVciNZTm2t4BIibQiraqbiK1Jpho6DXZl5a
    eUz05sZNwQlYTHuUgmLnN92CgOr4HuFlhMVgotvWMo7C8lgeMCjLeVi9H/g75ZDu
    fYP6Ls+bza/r5OUZ24frh1Ws8ddcLhJ7IE1RaN2xk6wM1zUP3NuDruAtMOyA4Bb4
    8ezLyaJKfQKx5DqwpbyMOHP9GNlu/RaALvo1YORoF7LnyC/5IgP98ip4fsh2w9dY
    zJZevZI0mcw5C6XGieZRmyyKFEWg0Me34tuXImb9Ie9aI+wKhZyvZLDspBKmbwie
    DF8HFlmCVXJXTLE3IzORX1l9fHjDYSOjeVXFCjUkHJCUb96P4x6wqco0dJ4w47xD
    MPXRtz2gPUkHPNUC2pRznCQ4nINSCWOKkYxUHJjyMuyJHUA4WnopHErj38/52pHT
    0eiNso5QMdDdAPWvgkgZ6qN0+G0dpuRfn8PvTGvj+rdSMgFkgtr9Z1GK3BEF5f43
    Nho6NUKyNkRpPN5v+py9UCnvSCXz4eNcRqN82QTb3EHSAasHnFT6od7zdp5hgSc/
    zawCUBLfABEBAAGJAjYEGAEIACAWIQRE1WPoG66C7U5AEQqV8xRdXbrrDAUCW4wt
    sQIbDAAKCRCV8xRdXbrrDKKgD/9muRQrbsLuNjcvFSS2Eytl7lgP/MgO6VQG+14U
    kmF2M/ZxDgOtppaqek3iYVTa49nZi4L81tEeBDt3HKY5sjORiphZX1zyUVAE/pk+
    UAUfGBML3DY/E5gMuGvJxbd0y7JRjPCytv9bajoTJT5I/yKx/pnGCXDelR6KK5KZ
    eDCpwNrg4yE4fmh/HeHbVt2MkxGBpxK4u22/31VTu8j5Y1xrucEwnn4XsYKMyBoZ
    Uy2f8yhbrImseaCvUX9b0ExbKp5nsvwOi4R789U/+kVxC8ONi53Jh2bUrGrHTkKQ
    L5ABMKDRPHF8EnL3g4cITeBEil11y+0MtSu8DGZFLhvv3zeaN6Ckvyj7p3y6rX5a
    Clgw4Sx1MLw51LSsR0aglqcGk92qUlZJAyxSoNFJGcIDN88LDE8gG8+YntxKKGN0
    25Zn+X+trOqzWGdPREP0d1QLHdRUSiQn78ffVeyXUE08dv+D+Sq8Fd4GBKijZP/E
    kvAZyeSlN3LCfkpFTI0rLgc5OcaRDpry3sT+lOeQYBbNX+Ud44sRPCoRzZuD+ja/
    oCjyUetIDbVw+a5X2WgMD3UsE5FzSJPOcPGBmN9tiRcWseJ1+0IPck2uwG1Klivo
    pb4Zgp/DLlLpofUZYVn1AIzGYYuuFMLdSQ8dENloqAF4AuVToa/Mk4H0lIly+Lj+
    rxZo7Q==
    =VWqg
    -----END PGP PUBLIC KEY BLOCK-----